Custom Memorial Design
Design Sketch Front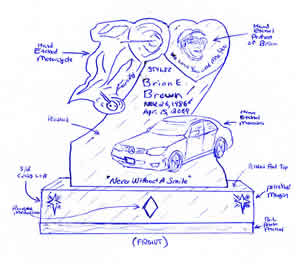 Design Sketch Back
Manufacturer's Drawing Front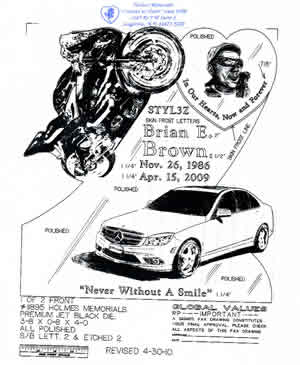 Manufacturer's Drawing Back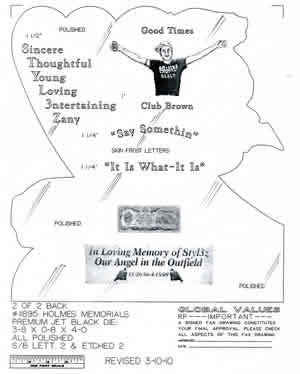 We start with a beautiful, blank piece of granite or stone. Then we can sculpt, engrave, hand etch, sand blast, letter, laser etch, install photos and make other design components as you request, along with our expert advice. The blank stone becomes a "Memorial", often with a visual representation of one's life.
When looking at a monument's inscription, specifically the line showing dates of birth and death, you may recall having heard the comment about how someone's whole life is in that "Dash"; the small sometimes overlooked line between our birth and death date that contains and represents our lives. We strive to help you complete, remember and reflect on the "Dash"; with an everlasting visual collage.
Turning that blank stone into a finished Memorial can be time consuming and quite involved. Sometimes just a simple dignified Memorial with only names and dates will suffice. However, when a truly unique Memorial is requested, we can accommodate your specific needs.
We work closely with you to create what you may already have envisioned for a memorial. Even beginning without any plans, we can show you various memorials that we have made and craft a design plan with direction, building from your ideas and thoughts.
Memorials are for the Living, with an Everlasting Remembrance of a Life Passed.
Our goal is to turn your loved one's life into a tribute that will be forever cherished.