Our History
Serving Customers and Building Trust for over 80 Years.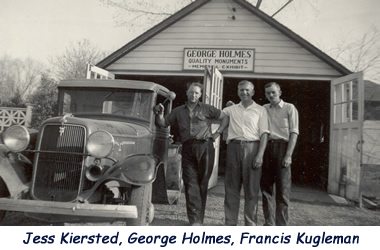 This photo of my grandfather, George Holmes, was taken in the early 1930s shortly after he established Holmes Memorials. He is in the center, along with two of his crew.
While much has changed in terms of materials, technology and artistry since these humble beginnings, the devotion to our customers and the pursuit of the highest levels of quality and workmanship continues up to the present day.
Holmes Memorials has continued to grow and modernize.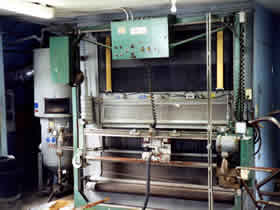 ABC Automatic Sandblast Machine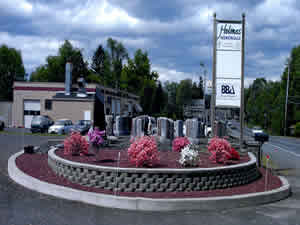 Our Location Since 2003
3185 Route 9 West, Suite 3
Saugerties, NY 12477

In the mid 1980s we fully modernized our shop with a new Davey rotary air compressor and Ruemelin dust collection system.
To complete this shop modernization, a new Ruemelin sandblast generator and abrasive recovery system were installed.
Added along with this equipment was a 3M SkotchKut monument lettering system, stencil press and an ABC Electric automatic sandblast machine, providing a complete system to engrave monuments in our shop.
In the 1990s, we added a new Hiab knuckle boom crane setting truck.
In 2003 we developed, built and relocated our sales office and display to our new location at 3185 Route 9 West, in the Barclay Heights area of the Town of Saugerties. We are conveniently located less then 10 minutes north of the Hudson Valley Mall, just past McDonald's and the Saugerties shopping plaza. We are directly across from the Mid Hudson Valley Federal Credit Union, Saugerties branch.